Check out this watch. I just bought it at the '3D Watch Shop' at the Bencoolen for $173SGD.
It's very nice, and I love it.
Casio G-Shock GA-1000 New Aviator Series

As quietly as usual, the Japanese electronics manufacturer has updated the GA-1000 series of aviation-themed shock-resistant watches. Their new

Casio G-Shock GA-1000

features a sporty body, which is similar in its styling to that of the last year's Casio G-SHOCK GW-A1000-1ADFSmart Access watch. However, this new "aviator" sports a lot more readable dial with analogue and digital displays combined for (almost) perfect usability.

Being a rightful heir to G-Shock legacy, the new Casio G-Shock GA-1000

is equipped with a shock-resistant stainless steel body, which is coated with a thick layer of soft to touch resin.
The ion-plated black bezel is, too, protected from a surprise blow with four shock guards that additionally provide a firmer grip when you want to operate the watch using any of the four huge polished push-pieces at 2, 4, 8 and 10 o'clock.
Available in series :
GA-1000-1A / GA-1000-1B / GA-1000-2A

As usual, the watch is literally loaded with functions that will please almost any adventurer seeking for a perfect travel companion.

Besides a highly accurate compass, there is also a thermometer, an alarm, countdown timer, as well as a world clock that stores 48 cities and 31 time zones in its vast memory. Since some countries still experiment with daylight saving time, the time in each zone can be displayed with DST turned on or off, which makes it quite convenient for a frequent traveler.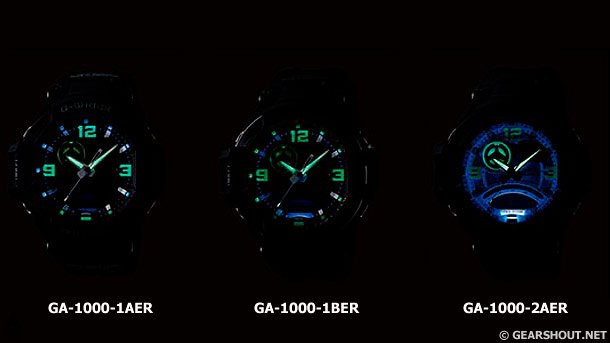 Although this watch doesn't feature a solar cell, the SR927W battery that animates this watch can supply it with power for around two years, which is just fine because you will have to visit service anyway in order to keep its guaranteed water resistance of 200 meters (those gaskets need change once in a while).

So far, the watch is sold in Japan at around $290, which makes it a very affordable beater for those who just can't spend their weekends lying on a sofa and playing Super Mario with their imaginary friends.
TWIN SENSOR
This new model is the first in the Gravity Defier lineup to be equipped with digital compass capabilities, creating a watch that is perfectly matched to the needs of the modern aviator, both in terms of function and appearance. Pressing the 9 o'clock button in any mode immediately goes to the Digital Compass Mode, and a button at 8 o'clock returns to the mode you were in before the Digital Compass Mode. Continual direction readings can be taken for 20 seconds, during which the second hand points to north, a literal direction indicator is displayed in the upper display, and a direction angle value is displayed in the lower display. Bearing Memory lets you temporarily store and display a direction reading so you can use it as a reference as you take subsequent digital compass readings. Other features include temperature measurement, large numerals, and thick hands for easy reading. A coating on the tip of the second hand and minute markers reacts with the black light illumination of the watch for easy reading in the dark.
* The appearance of Neon Illuminator illumination depends the watch model.
Mineral Glass / Spherical Glass
200-meter water resistance
Case / bezel material: Resin / Stainless steel
Neon Illuminator (Black light LED)
Auto light switch, selectable illumination duration, afterglow
Hand indication of north (20 seconds continuous measurement)
Measures and displays direction as one of 16 points
Measuring range: 0 to 359°
Bidirectional calibration
Magnetic declination correction
Display range: –10 to 60°C (14 to 140°F)
Display unit: 0.1°C (2°F)
31 time zones (48 cities + coordinated universal time), city code display, daylight saving on/off
Measuring capacity: 23:59'59.99''
Measuring modes: Elapsed time, split time, 1st-2nd place times
Countdown range: 60 minutes
Countdown start time setting range: 1 to 60 minutes (1-minute increments)
5 daily alarms (with 1 snooze alarm)
Full auto-calendar (to year 2099)
Button operation tone on/off
Analog: 3 hands (hour, minute (hand moves every 10 seconds), second)
Digital: Hour, minute, second, pm, month, date, day
Accuracy: ±15 seconds per month
Approx. battery life: 2 years on SR927W × 2
Size of case: 50.8 X 52.1 X 16.6 mm
LED:Neon Illuminator (Blacklight LED)